Skip to Content
The Four Types of Dental Implant Restorations
Have you ever known someone who never seems to get cavities, even though they eat an insane amount of sugar and rarely see the dentist? While this type of person is certainly rare, it showcases the notion that our mouths and bodies are all very different and need to be maintained in different ways.
It is important to replace a lost tooth, as the consequences of removing or losing a tooth and doing nothing can grow into a much larger problem as time goes on. If you have missing teeth, but either cannot or do not want to get dentures, bridges, or crowns, then dental implants may very well be your best option!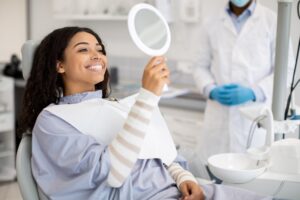 There are many advantages of dental implants:
Natural Look & Comfortable Fit -Implants look, feel and function similar to your natural teeth
Long Lasting -With proper care and maintenance, implants can last as long conventional restorations on teeth, or longer!
High Success Rate -Well planned and cared for dental implants generally offer "survival rates" that are comparable or better than other tooth replacement options.
Improved Ability to Eat and Chew -Dental Implants are anchored in your jawbone just like natural teeth.
Improved Facial and Bone Features -Implants preserve your natural adjacent teeth and tissue by avoiding the need to cut down adjacent teeth to place a conventional bridge.
Dental implants have many aesthetic benefits, but they also play an important role in the overall function of your mouth. They provide a healthy bite, keeping each tooth properly in place while supporting a healthy jawbone and preventing bone loss.
Implants may also help improve your physical appearance. You may feel self-conscious about how your smile looks and feels, and implants can help you with that. Your self-esteem and confidence are important. Being able to eat comfortably, smile and laugh without pain, worrying, or holding black, will have a great impact on your life.
Because of all these advantages, dental implants provide excellent long-term value and can be a terrific investment in your ongoing oral health.
There are several different types of dental implants that can be used to treat patients with missing, chipped, or diseased teeth. The type that your oral surgeon will recommend is based on a thorough examination of your mouth and your oral and general health history.
There are three types of restorations:
Single tooth implants
Implant-supported bridges
Full Arches – both Fixed & Removable
Each type of dental implant restoration has its own benefits and drawbacks, so it is important for patients to choose the right one for their specific needs. (I would remove that whole breakdown paragraph -it's too much to explain and those do not really do a good job of it)
Dental implants are super versatile and choosing this option can be a great method for smile restoration. Since they are an investment, it is very important to care for them properly. This means ensuring that they are cleaned regularly per instructions from a dentist, and making sure to keep up with regular dental appointments to make sure things are going smoothly.
If you would like more information about dental implants, or if you believe they could help restore your smile, you should contact the providers at Atlanta Oral & Facial Surgery . We have an exceptional care team dedicated to resolving complex health concerns in ways that consistently earn the trust of patients, those who care for them and referring dentists.  As the largest oral surgery group of its kind in the United States, we have revolutionized our patient journey into a thoughtfully designed experience that addresses patient concerns, centralizes and simplifies processing, and inspires confidence in exceptional outcomes.
Oral health is at the center of wellbeing, so we invest our time, talents, and resources to deliver remarkable care that enhances quality of life and transcends the expected healthcare experience.
For more information about our practice, visit our website or contact us at 478-401-1527.