Skip to Content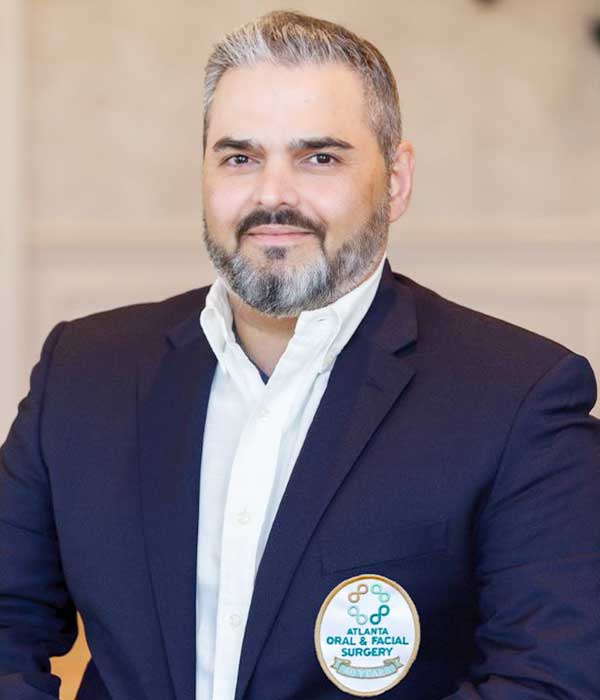 Biography
Dr. Etezadi has been a resident of Roswell, Georgia since 1990. After graduating from Lassiter High school, Dr. Etezadi attended Reinhardt College graduating Magna Cum Laude, with a degree in Biology. He then matriculated into the School of Dentistry at the Medical College of Georgia where he graduated with honors.
Dr. Etezadi received several awards and distinctions during his dental school education, all of which culminated in his election into Omicron Kappa Upsilon national honor society. After completing dental school, he was selected from a large pool of candidates to remain at the Medical College of Georgia for his oral and maxillofacial surgery residency.
As the sole resident in his residency class, Dr. Etezadi was responsible for running an extremely busy clinic and was intensely trained in all aspects of oral and maxillofacial surgery. He was based in several of the surrounding hospitals and off-campus facilities, including the MCG Health Medical Center, Augusta's main Level I trauma center for a tri-state region. He also covered the Augusta Veterans Hospital and the Augusta Children's Medical Center.
His pride in his career and passion for his community led to Dr. Etezadi's involvement in several outreach programs and several academic courses targeted towards community practitioners and residents.
Dr. Etezadi is a diplomat of the American Board of Oral and Maxillofacial Surgery, as well as a member of the Georgian Society of Oral and Maxillofacial Surgeons and the American Association of Oral and Maxillofacial Surgeons. He enjoys the full scope of oral and maxillofacial surgery and has special interests in advanced oral surgical procedures (impacted wisdom teeth, dental implants, and bone grafting), facial trauma and reconstructive surgery, orthognathic surgery (corrective jaw surgery), maxillofacial tumor and reconstructive surgery, and general anesthesia.
Dr. Etezadi joined Atlanta Oral & Facial Surgery as an associate in 2012. He is accepting new patients at the Cartersville location.
Dr. Etezadi practices out of the Cartersville office.

Dr. Etezadi Reviews
Everybody was fantastic. They got me in the same day I called. Dr Etezadi came in and he took his time and came up with a plan. The most important thing was he asked me if I was nervous about the surgery.
Everybody, I thank you so much!
My son had 6 teeth extracted to prepare for braces. The staff was wonderful as always, especially Chelsia! Dr. E did a great job. The next day very little pain and 72 hours later back to normal. Thank you.
This was one of the most pleasant dental experiences of my life. I cannot thank this team enough. On my consultation, Dr. Etezadi answered all the questions and concerns I had and was incredibly understanding of all my worries. On the day of surgery, the two dental assistants who settled me in, Chelsia and Darian, were absolute gems! Kindness all around that surgery room. They gave me a blanket for my shivers, and soothed all my worries. I was asleep and done! I'm hardly in any pain 2 days later and the meds that were prescribed are doing a perfect job. This place was such a blessing! Thank you all so much!
Dr. Etezadi and Darian were wonderful while I was going through a very unnerving experience. Darian is the sweetest, most caring person. The last thing I remember before going under general anesthesia was holding Dr. Etezadi's hand and I wouldn't let go because I was scared. He was so kind. Unusual for an experience like this. Usually doctors are too busy to take the time for compassion. I am very thankful for both of these exceptionally caring people.
Atlanta Oral and Facial Surgery (Cartersville Office) treated me during my recent tooth extraction and placement of an implant. They were very professional and kind. From the front desk, to the assistants, to the doctor, they were wonderful. Dr. E is the best! Highly recommend!
Providing Specialty Surgical
Services to Atlanta Since 1980