Skip to Content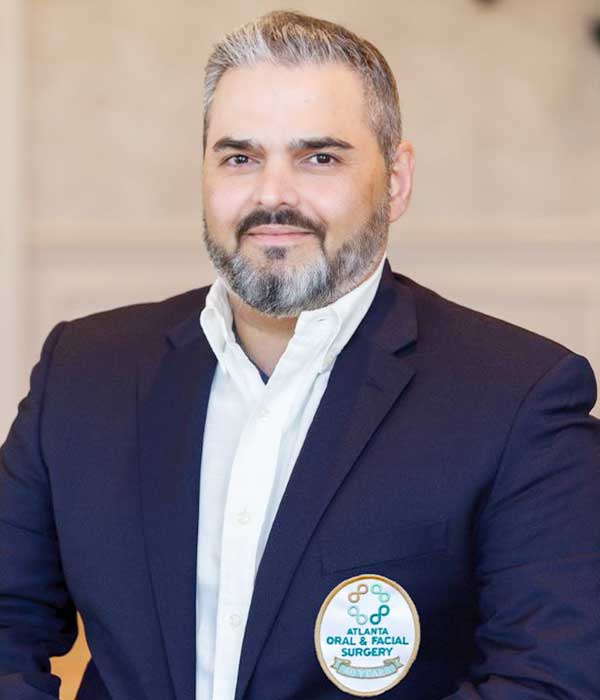 Biography
Dr. Etezadi has been a resident of Roswell, Georgia since 1990. After graduating from Lassiter High school, Dr. Etezadi attended Reinhardt College graduating Magna Cum Laude, with a degree in Biology. He then matriculated into the School of Dentistry at the Medical College of Georgia where he graduated with honors.
Dr. Etezadi received several awards and distinctions during his dental school education, all of which culminated in his election into Omicron Kappa Upsilon national honor society. After completing dental school, he was selected from a large pool of candidates to remain at the Medical College of Georgia for his oral and maxillofacial surgery residency.
As the sole resident in his residency class, Dr. Etezadi was responsible for running an extremely busy clinic and was intensely trained in all aspects of oral and maxillofacial surgery. He was based in several of the surrounding hospitals and off-campus facilities, including the MCG Health Medical Center, Augusta's main Level I trauma center for a tri-state region. He also covered the Augusta Veterans Hospital and the Augusta Children's Medical Center.
His pride in his career and passion for his community led to Dr. Etezadi's involvement in several outreach programs and several academic courses targeted towards community practitioners and residents.
Dr. Etezadi is a diplomat of the American Board of Oral and Maxillofacial Surgery, as well as a member of the Georgian Society of Oral and Maxillofacial Surgeons and the American Association of Oral and Maxillofacial Surgeons. He enjoys the full scope of oral and maxillofacial surgery and has special interests in advanced oral surgical procedures (impacted wisdom teeth, dental implants, and bone grafting), facial trauma and reconstructive surgery, orthognathic surgery (corrective jaw surgery), maxillofacial tumor and reconstructive surgery, and general anesthesia.
Dr. Etezadi joined Atlanta Oral & Facial Surgery as an associate in 2012. He is now accepting new patients at the Cartersville and Dawsonville locations.
Dr. Etezadi practices out of the Cartersville office and the Dawsonville office.
Dr. Etezadi Reviews
I was terribly nervous about my appointment but the whole staff that was there during my visit was so compassionate and sweet The staff could tell I was so scared and was very understanding and empathetic which truly meant so much I'm so happy and grateful to have met such a kind and wonderful staff Thank you so much
He is an amazing doctor. All of the staff is super friendly and immediately out me at ease.
They did a great job working with my daughter and making her feel comfortable for her procedure.
My daughter had all four of her wisdom teeth removed by Dr. Etezadi and his friendly staff. He did an amazing job and she is healing very well. I highly recommend this office not only for the experience with the doctor but the staff and overall setting as well.
This is the second time I have been there for a procedure. Dr. Abti was wonderful. He personally called me that evening at home to see how I was. No other Doctor in Suwanee, Ga. has called to personally ask me how I was doing. I really thought that was very nice and good patient PR. I moved here from Pittsburgh, Pa. and the doctors always called me or his nurse. You also have wonderful receptionists.
Providing Specialty Surgical
Services to Atlanta Since 1980