Skip to Content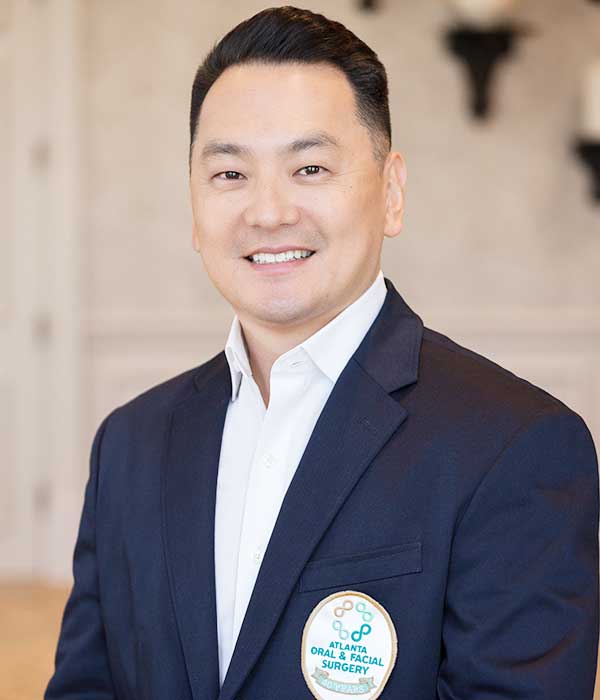 Meet Dr. Jo
Atlanta, GA
Dental School: Medical College of Georgia
Residency: Emory University School of Medicine
Fellowship: Facial Cosmetic and Reconstructive Surgery
Surgical Interests: Wisdom Teeth, Dental Implants, Facial Trauma, Facial Cosmetic and Reconstructive Surgery
Biography
Dr. Jo completed his undergraduate training at Emory University with a Bachelors of Science in Biology. He received his D.M.D. with Honors from the Medical College of Georgia, where he was recognized with numerous Achievement and Academic Awards. He completed his surgical residency training at Emory University School of Medicine's Division of Oral and Maxillofacial Surgery, where he received extensive training in advanced oral surgical procedures (impacted wisdom teeth, dental implants, and bone grafting), facial trauma and reconstructive surgery (complex facial fractures and lacerations), orthognathic surgery (corrective jaw surgery), facial augmentation (chin and cheek implants), maxillofacial tumor and reconstructive surgery, temporomandibular joint (TMJ) surgery, and general anesthesia.
Dr. Jo pursued further subspecialty training and completed an accredited fellowship program in facial cosmetic and reconstructive surgery under the proctorship of a well-established facial cosmetic surgeon, where he became proficient in the most current facial rejuvenation procedures and minimally invasive techniques. After completing his fellowship training, Dr. Jo joined the Atlanta Oral & Facial Surgery group in 2006 to establish himself in Gwinnett County.
Dr. Jo's current clinical interests and areas of special focus include minimally invasive (sutureless) third molar surgery, dental implant surgery, corrective jaw (orthognathic) surgery, and reconstructive facial surgery.
Dr. Jo is a diplomate of the American Board of Oral and Maxillofacial Surgery and a diplomate of the National Dental Board of Anesthesiology. He previously served as an Adjunct Assistant Professor at Emory University School of Medicine in the Department of Surgery and as a Clinical Associate Professor at the Medical College of Ga. Department of Oral and Maxillofacial Surgery. His advanced training allows him to enjoy a broad scope oral and maxillofacial surgery practice, and is able to offer his patients the comfort of intravenous deep or conscious sedation and general anesthesia. Most importantly, patient care and safety are his number one priority.
Dr. Jo is a Fellow of the American Society of Implant & Reconstructive Dentistry (ASIRD). ASIRD is committed to improving the quality of care for dental implant patients by elevating the standards of surgical and restorative dental education and practice. Not every dentist routinely restores and maintains dental implants and not all placers of dental implants are surgeons. By using an ASIRD team, rest assured that your dentist routinely restores and maintains dental implants and only a trained surgeon will place your implant.
Dr. Jo is a native of the metro-Atlanta area and has a strong sense of connection to his community. He resides in Gwinnett County and enjoys spending time with his wife and family. Outside of work, Dr. Jo enjoys to play golf and tennis. He is also fluent in Korean.
Dr. Jo practices out of the Sugarloaf office in Duluth, and at the Hamilton Mill office in Dacula.
Dr. Jo Reviews
Dr. Jo and his staff are fantastic! I had two teeth extracted and an implant placed without ANY pain! They are always friendly, knowledgeable, caring and accommodating. If I need additional work done, I will definitely be coming back to Dr. Jo.
The office and staff were very professional and very easy to schedule my sons wisdom teeth appointment. I really appreciate their kindness and flexibility on his football schedule as well. Never did I just feel as he was a number. I truly think they valued him as a patient. The office was very clean, also the best thing was the pre and post op care instructions to follow before and after his appointment. I highly recommend this office. GREAT JOB to Dr Jo and his AMAZING staff!
Extremely friendly and prompt. Dr. Jo was amazing - pain free implant with only a local. And his assistant Cassy had the kindest eyes, it really lowered by anxiety. In and out in under 30mins!
Dr. Jo and his staff were wonderful and very professional. Had 2 implants with no problems at all. Would definitely recommend them to anyone who needs oral surgery.
Dr. Jo did a wonderful job extracting my two wisdom teeth on the right side of my mouth. The procedure was quick and painless. Recovery has been easier than expected. His team is very upbeat and positive.
Providing Specialty Surgical
Services to Atlanta Since 1980