Skip to Content
Bone Grafting Services in Metro Atlanta
If you have one or more missing teeth, it can leave you with poor quality and quantity of bone mass in your jaw. Without this necessary bone, you may not be able to receive dental implants without help from our professionals. Today, we can grow bone where it's needed. This not only allows us to place a properly-sized implant, but it also gives us a chance to restore functionality and esthetic appearance. Don't let missing teeth take a toll on your self-esteem or create further health or aesthetic issues. Atlanta Oral & Facial Surgery is here to help Metro Atlanta with our bone grafting services. Please keep reading to learn more or give us a call now.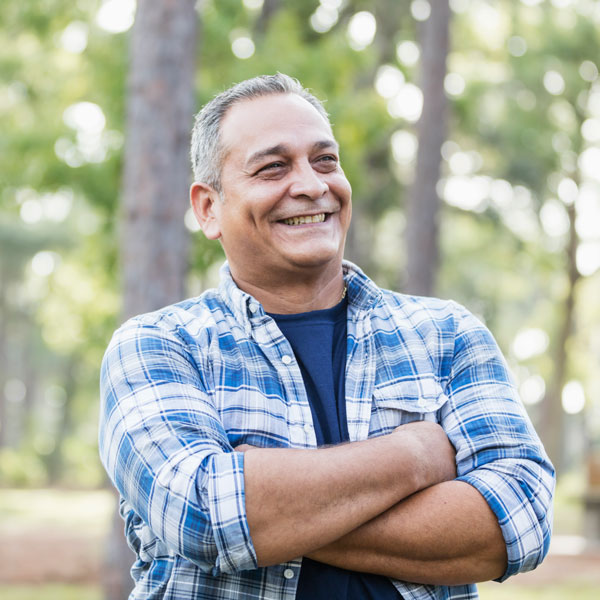 The Atlanta Oral & Facial Surgery Advantage
The advantages of synthetic materials are they don't require a second procedure to harvest bone, which reduces overall risk and pain. One of our skilled and knowledgeable doctors will help you determine which type of bone graft material is right for you.
Types of Bone Grafts
Bone grafting can repair potential implant sites with scarce bone structure from a previous extraction, gum disease, or injury. Major bone grafts are typically performed to repair jaw defects due to traumatic injuries, tumor surgery, or congenital defects. Large defects are corrected using the patient's own bone, which can be harvested from a number of different sites depending on the scope of the defect. Bone grafts are routinely performed in an operating room and require a hospital stay. The different types of bone grafts include the following:
Autogenous Bone Grafts
Autografts are made from your own bone taken from somewhere else in the body. The bone is most frequently harvested from the chin, jaw, lower leg bone, hip, or skull.
Allogenic Bone
This is a dead bone harvested from a cadaver and processed using a freeze-dry method to extract the water. Unlike autogenous bone, allogenic bone isn't capable of producing new bone on its own. Instead, it serves as a framework where bone from the surrounding bony walls can grow to fill the space.
Xenogenic Bone
Derived from the non-living bone of another species, usually a cow, this type of bone graft is processed at very high temperatures to avoid potential immune rejection or contamination. Xenogenic serves as a framework, just as allogenic bone.
Bone Grafting Substitutes
Many safe synthetic materials are available for those who prefer an alternative to using real bone. If, for whatever reason, you choose not to go with real bone, you can consider one of the following substitutes:
DBM / DFDBA
Demineralized Bone Matrix /Demineralized Freeze-Dried Bone Allograft is processed allograft bone, which contains proteins, collagen, and growth factors extracted from the allograft bone.
Graft Composites
Graft composites consist of other bone graft materials and growth factors to achieve the benefits of a variety of substances. Some combinations may include collagen / ceramic composite, DBM combined with bone marrow cells, or a collagen / ceramic / autograft composite.
Bone Morphogenetic Proteins
Bone morphogenetic proteins (BMPs) are proteins naturally produced in the body to promote and regulate bone formation and healing.
Bone Grafting FAQs
Our team at Atlanta Oral & Facial Surgery understands many patients have questions about the bone grafting procedure. We're happy to answer your frequently asked questions about bone grafts.
What Is A Bone Graft? 
A bone graft is a dental procedure done to increase bone in your mouth where it has been lost or needs additional support. Bone grafts are corrected using the patient's own bone or synthetic bone material.
Why Does Someone Need A Dental Bone Graft Before Or With An Implant?
Dental implants need a secure base to support them. When a patient doesn't have enough volume in their jawbone, they may need a bone graft to secure the implant. Most patients don't realize they're losing bone density over a long period of time, so they often don't have enough bone to support the implant. When a tooth is extracted, it creates a large hole in the bone and it needs to be filled in. Even when placing an immediate implant at the time of extraction, a bone graft is required to fill in the spaces between the implant and the wall of the socket.
Do Bone Grafts Hurt? 
We typically use local or general anesthesia during the bone grafting procedure, so it should not be painful. Patients sometimes feel pain following the procedure since we must make an incision on the gum and place the bone graft underneath it. Ice packs and over-the-counter pain relievers easily control soreness and pain.
What If I Don't Get A Bone Graft After A Tooth Extraction?
If you don't get a bone graft when you need it, the bone will heal in its own way. The walls that once surrounded your tooth may collapse, causing you to lose bone density. A bone graft also helps provide structure and support, so without it, your facial features may sag. It can also be more difficult and more costly to try and build bone later in an area that was not grafted at the time of the tooth extraction.
Do I Need One Implant Per Missing Tooth?
No, but it is a common misconception that you need one dental implant per tooth. We can place an entire jaw's worth of teeth in just four to six dental implants.
How Much Bone Goes Into A Bone Graft?
The amount of bone in a bone graft is typically very minimal. The procedure for one area most commonly requires only about 0.5cc of bone graft material.
What Can I Eat After Bone Grafting Surgery?
You should only eat soft bland foods following your bone grafting surgery. Stay away from straws to not dislodge the bone graft or blood clot. Most people eat soothing, cold foods like smoothies, milkshakes, and ice cream. Mashed potatoes, yogurt, and scrambled eggs are also good suggestions. Avoid hot foods until your bleeding has completely stopped.
Contact Atlanta Oral & Facial Surgery For Bone Grafting Services
If you are considering a dental bone graft, Atlanta Oral & Facial Surgery can help you through the process! We will help you prepare for the bone grafting procedure and answer all your questions. Contact us today to schedule a consultation.
Providing Specialty Surgical
Services to Atlanta Since 1980