Skip to Content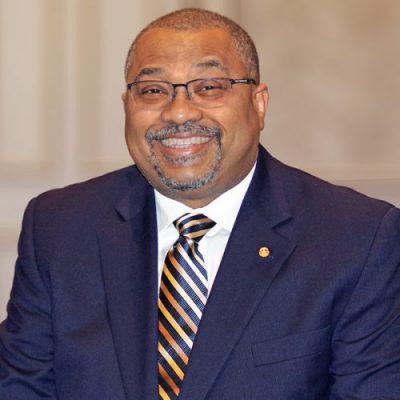 Meet Dr. Treadway
Atlanta, GA
Dental School: University of Florida
Residency: Martin Luther King/Charles R. Drew University Medical Center
Biography
Dr. Antwan L. Treadway was born and raised in St. Petersburg, FL. He started with early interest in biological sciences and entered the University of Florida in the summer of 1984. Antwan became involved in numerous student leadership positions and went on to become inducted into the University of Florida's Hall of Fame and received several awards from the Dept. of Student Services. Further pursuing his interest in biological sciences-he obtained a degree in microbiology and cellular genetics from the university and applied for dental school. He was accepted at Howard University and The University of Florida and chose Howard University for the first year of his dental school education. After a year in Washington, D.C. he was led to transfer back to University of Florida where he completed his D.M.D. degree. During his tenure at the University of Florida's Dental School –he was elected president of the local and subsequently national executive committees of the Student National Dental Association.
During his tenure as president the organization established a larger membership base and brought serious reforms to the organizational and procedural structure of the SNDA. His next venture started after he accepted a position as a General Practice Resident at the Bronx Lebanon Hospital in New York City. Antwan remained there a second year, as chief resident for the hospital dental service-and an interest in Oral and Maxillofacial Surgery was piqued. Dr. Treadway then left New York City for a residency in Oral and Maxillofacial Surgery at the Martin Luther King/Charles R. Drew University's Medical Center in Los Angeles, California. Continuing his activity in organizations he was elected President of the Joint Council of Interns and Residents. This organization was responsible for representing over 1500 medical and dental residents for all of Los Angeles County. Dr. Treadway received several civic awards from the County of Los Angeles and special recognition from the Director of Health Services for the county. He was also awarded the Resident of the Year award by his attending staff upon graduation from his training program.
Dr. Treadway went on to accept a position with the Medical College of Georgia. and became the first African American full time faculty ever hired in the Dept. of Oral and Maxillofacial Surgery's history. After a move to private practice he became the first African American president of the Georgia Society of Oral and Maxillofacial Surgeons, chairman of the organizations Committee on Anesthesia for the state of Georgia and represents District III (the Southeastern US and Puerto Rico) for the American Association of Oral and Maxillofacial Surgeons to the national committee on Anesthesia. He continues to be an advocate for patients, students and the profession through membership in the Georgia Dental Society, Georgia Society of Oral and Maxillofacial Surgeons, National Dental Association and the American Dental Education Association.
Dr. Treadway is a Fellow of the American Society of Implant & Reconstructive Dentistry (ASIRD). ASIRD is committed to improving the quality of care for dental implant patients by elevating the standards of surgical and restorative dental education and practice. Not every dentist routinely restores and maintains dental implants and not all placers of dental implants are surgeons. By using an ASIRD team, rest assured that your dentist routinely restores and maintains dental implants and only a trained surgeon will place your implant. Learn more about Dr. Treadway at ASIRD.
Dr. Treadway practices out of the Douglasville office.
Dr. Treadway Reviews
Dr. Treadway and staff were very friendly and professional. Dr. Treadway was painless and although I am a dentist, he explained everything in detail. I will definitely refer family, friends, colleagues and patients to this office! THANKS DOC!
Accolades to the entire staff, nurses, and Doctor Treadway. I was able to get an initial appointment in less than a weeks notice. After the evaluation appointment I was scheduled for surgery in just a matter of days. I was made to feel super special by everyone on the day of surgery. Over the weekend I developed some post operative pain and called the front office on Monday morning and was able to be seen in 24 hours! Wow. You guys are awesome! Thanks again for such great care.
By far, the best Oral Surgery Clinic on planet Earth! Dr. Treadway is absolutely amazing. A true and caring professional. His technician staff is incredible. Front desk staff always provides warm smiles, quick answers, and expedited check-out. During my visit, I encountered about 8 employees, all of which were kind, empathetic, and gracious. The Douglasville facilities are modern, clean, and comfortable. I experienced little to no wait for all of my visits and follow ups. I will re-visit their office at any time without reservation. I truly believe that they are the BEST both professionally and personally. Thank you for far-exceeding all of my expectations.
I'm glad we went with this office, hands down the best of the best!!
100% recommend Dr. Treadway and his staff. They were AMAZING!!
Providing Specialty Surgical
Services to Atlanta Since 1980