Skip to Content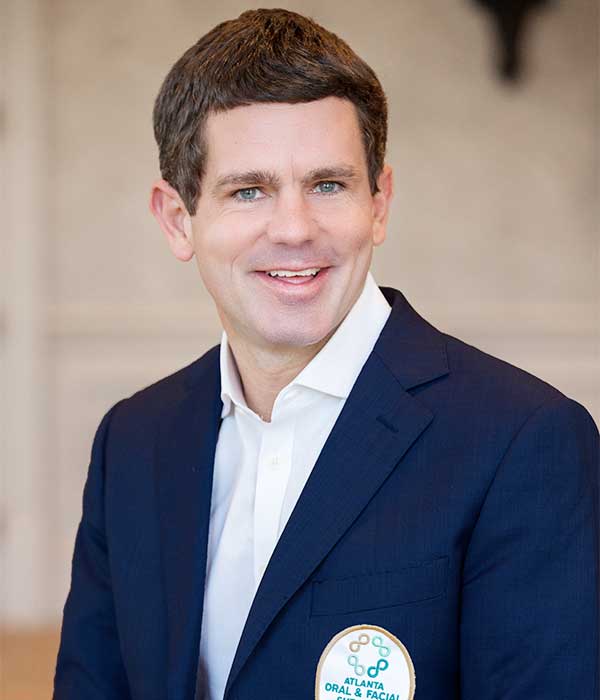 Biography
Dr. Blair is a Georgia native. He was born in Augusta and spent his early years in Columbia, SC. Dr. Blair's family then moved to East Cobb where he graduated from Lassiter High School. He graduated with honors from Auburn University with a degree in exercise physiology. After one year as an oral surgery assistant with Atlanta Oral & Facial Surgery, Dr. Blair attended Tufts University School of Dentistry in Boston, MA. Upon receiving his D.M.D. degree, Dr. Blair entered the four year Oral and Maxillofacial Surgery Residency program at Emory University. After completing his residency, Dr. Blair completed a one-year fellowship in bone grafting and dental implants at The Ohio State University in Columbus, OH.
Dr. Blair rejoined Atlanta Oral and Facial Surgery in September 2011. Dr. Blair and Atlanta Oral & Facial Surgery had kept in close contact over the nine years during his dental education, residency and fellowship. He is now proud to be a partner of the very practice that inspired his career.
Dr. Blair is board certified by the American Board of Oral and Maxillofacial Surgeons. He has privileges at  Northside Hospital and is a Clinical Associate Professor at Emory University working with the Oral and Maxillofacial Surgery residents. He is also a member of several professional organizations that include:
The Ga. Dental Association
The American Dental Society
The American Association of Oral and Maxillofacial Surgeons
The Academy of Osseointegration
Dr. Blair is a Fellow of the American Society of Implant & Reconstructive Dentistry (ASIRD). ASIRD is committed to improving the quality of care for dental implant patients by elevating the standards of surgical and restorative dental education and practice. Not every dentist routinely restores and maintains dental implants and not all placers of dental implants are surgeons.  By using an ASIRD team, rest assured that your dentist routinely restores and maintains dental implants and only a trained surgeon will place your implant. Learn more about Dr. Blair at ASIRD.
Dr. Blair's enjoys the full scope of oral and maxillofacial surgery, with a special interest in trauma, dental implants and bone grafting, reconstructive surgery and surgical extraction of wisdom teeth. His innovative surgical techniques have been published in the Journal of Oral and Maxillofacial Surgery (JOMS). Dr. Blair has also worked in Central America, performing facial reconstruction for children with cleft palates and other facial deformities.
Dr. Blair and his wife Danielle have two children, both boys, named Charlie and Parker.  The Blair family lives in North Buckhead and attends Buckhead church. Dr. Blair enjoys long distance running (competing in many of the top US marathons), fishing, golf, and college athletics. Especially, if it's for Auburn!
Dr. Blair practices out of the Roswell and Dunwoody offices.
Dr. Blair Reviews
AMAZING 10 Stars. The office, the staff, and Dr. Blair are top notch in oral surgery care! They are genuine people with compassion for their patients' needs. Their level of skills and techniques allowed my implant procedure to go exceptionally well with very little discomfort. I have and will continue to recommend everyone with oral surgery needs to go see them. You will be surprised at how well you are taken care of!
Very well run practice from front office all the way through follow up care. Dr. Blair and staff represent what healthcare done well looks like.
Dr. Blair and his team are seriously one of the best. They definitely but your needs first. Just got my first implant today and they did such an amazing job.
This company has created a positive and beautiful environment for their customers. Their office is beautifully decorated and their staff are very friendly. I am very impressed with my doctor, Henry K. Blair, DMD. He was very charismatic and he let me know right away that we can come up with a plan that will solve my problem. His expertise, confidence, and assurance put me at ease. I have already recommended Atlanta Oral & Facial Surgery to several people and will continue to do so.
Dr. Henry Blair is amazing! Very knowledgeable and experienced surgeon. My implant was done very nicely with no paint and discomfort. Every staff is so knowledgeable and supportive. Thank you, I am so glad that I found you. Dr. Henry Blair's assistant, Judy Miller, is very nice and kind. She helped me with all my questions and feel comfortable during my whole process. Thank you! Thank you! Thank you!
Providing Specialty Surgical
Services to Atlanta Since 1980