Skip to Content
The Cost of Full-Mouth Dental Implants in Metro Atlanta
Atlanta Oral & Facial Surgery Explains Full-Arch Implants
Full-mouth dental implants, or all-on-fours, are one of the preferred methods for replacing entire bridges of teeth. An all-on-four is a semi-permanent implant. While a dental professional can always remove or adjust them, you will not need to worry about taking the implants out or cleaning them the way one does with traditional dentures. You can treat full-mouth dental implants like these similar to your natural teeth for the most part. If you have any teeth remaining on that arch, they will need removed before placing the screws and abutments. In the Metro Atlanta area, Atlanta Oral & Facial Surgery has professionals that can help with full-mouth arch dental implants.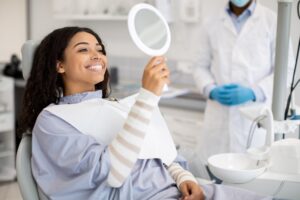 How Much Do All-on-Fours Cost?
Full-mouth dental implants are among the most affordable options for replacing an entire arch of teeth at Atlanta Oral & Facial Surgery. Depending on the additional work required and the exact type of full-arch implant, the cost can vary significantly.
What Can Affect Dental Implant Costs?
Several factors can affect the costs of full-mouth dental implants. When it comes to your teeth, you will never regret paying for quality materials and work. Your location within the country and even within your state may impact how much your all-on-four implants cost. Additionally, the materials you choose can change the cost of your implants. Full-arch implants come in many different materials, including acrylic, porcelain, and zirconia. Each material will come at a different price point, though. Finally, the training and experience level of your dental professional or oral surgeon will typically affect the dental implant costs. To get the most reliable work from the most experienced surgeons, you may have to pay a little bit more. Atlanta Oral & Facial Surgery offers highly trained professionals at an affordable price.
Will My Dental Insurance Cover Full-Mouth Dental Implants?
Many dental insurance plans help cover the costs of full-mouth dental implants. While each insurance provider is different, some plans will cover up to 50% of the price for major restorative procedures such as full-arch implants. Our Atlanta Oral & Facial Surgery team does everything we can to work with your insurance provider to get you the implants you need at a price you can afford. Some patients concerned about dental implant costs select a dental insurance plan ahead of time that covers restorative procedures like full-mouth dental implants.
Alternative Ways to Pay for Dental Implants
It is very common for dental offices, like Atlanta Oral & Facial Surgery, to offer alternative ways to pay for full-mouth dental implants. Many patients will be eligible for payment plans or in-house financing. Do not let your fear of the costs deter you from having the smile you deserve. Explore our alternative payment methods and financing options before giving up on getting a new smile.
Dental Implants vs. Traditional Dentures
When a patient at Atlanta Oral & Facial Surgery is considering full-mouth dental implants, they often find themselves comparing all-on-fours to traditional dentures. While conventional dentures do offer a budget-friendly alternative to full-arch implants, patients rarely prefer dentures over implants. Once implants are placed, they tend to feel and look more like your natural teeth. Also, they provide a lifestyle that is much more like that of someone with natural teeth. You do not have to remove them and clean them every night like traditional dentures.