Skip to Content
Why Denture Wearers Should Consider Dental Implants
Are you happy with your dentures? Dentures are a time-tested way to replace missing teeth, but on the other hand, they certainly have their drawbacks. If you're unhappy with your dentures, if there are things about them that you'd like to change, you may want to consider dental implants.
What are dental implants for dentures? Full arch implants are a type of dental implant that is used to support a full arch of teeth. Instead of replacing individual teeth with an implant for each tooth, all on full arch implants use just four to six implants to support an entire arch of teeth. The implants are made of titanium, which is a biocompatible metal that fuses to your jawbone over time. They are placed in the jawbone and act as a support structure for your new teeth.
After the oral surgeon places the implants, the surrounding bone integrates with it, making the implant a permanent fixture in the mouth. Full arch implants offer a more secure attachment than conventional dentures, due to the physical link between the implants and the jawbone.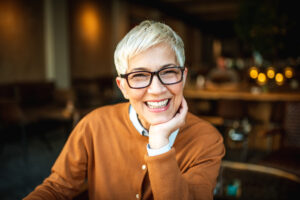 Although bone loss can present a potential obstacle for denture wearers who want to get dental implants, full arch implants can help them overcome this issue. The implants are located more toward the front of the jaw, where bone is thicker and tends to erode more slowly. This approach makes this treatment more accessible to a wider variety of patients, including many who have worn conventional dentures for a lengthy period of time and have already lost some jawbone as a result.
Benefits of Full Arch Implants Over Traditional Dentures:
Improved Stability
Have you ever felt your dentures slide or shift position in your mouth while you were smiling, talking to someone, laughing or eating? Tooth loss isn't something to be embarrassed about, but it's hard not to feel self-conscious when your teeth are visibly moving around in your mouth. The titanium posts that hold your dental implants in place will solve that problem.
When compared to traditional dentures, full arch implants provide some unique advantages to improving oral function and quality of life. The stability of an implant-supported denture offers peace of mind to patients who previously worried that their appliance would shift out of place during a conversation or at some other inconvenient time. This aspect of implant-supported dentures also greatly improves one's ability to speak clearly.
Increased Oral Function
Additionally, patients who choose implants may be able to eat a wider variety of foods, as the dental implants help to mimic the chewing mechanism of the natural smile. Conventional dentures may not be able to process certain foods because they are not physically connected to the jaw, and that structural quality of implants helps an implant supported denture to withstand stronger chewing forces.
Decreased Risk of Bone Atrophy
Another benefit to wearing implant supported dentures is the fact that dental implants help slow down the process of bone loss. Those who have lost teeth, especially patients with total tooth loss, commonly experience bone deterioration. When teeth are missing, the body will reabsorb bone mass in the jaw. Since implants function like the roots of natural teeth, they help prevent bone loss.
Permanent Solution
How often you will need to repair or replace your dentures varies by patient, but it's a sure bet that it will have to be done at some time. It's not uncommon for patients to report that they've dropped and broken their dentures. In addition, dentures wear out over time.
Full arch dental implants don't need to be taken out and cleaned.  You just clean them as you would your natural teeth. With good care your full arch implants could last you the rest of your life. They will also provide the missing stimulation to your jaw bone, which can help to prevent your face from changing shape.
Atlanta Oral & Facial Surgery is an exceptional care team dedicated to resolving complex health concerns in ways that consistently earn the trust of patients, those who care for them and referring dentists. As the largest oral surgery group of its kind in the United States, we have revolutionized our patient journey into a thoughtfully designed holistic experience that addresses patient concerns, centralizes and simplifies processing, and inspires confidence in exceptional outcomes.
Oral health is at the center of wellbeing, so we invest our time, talents, and resources to deliver remarkable care that enhances quality of life and transcends the expected healthcare experience.
For more information about our practice, visit our website or contact us at 478-401-1527.